MK Technologies got its start in 1992 with the introduction of sturdy, accurate and cost-effective scale platforms. Since that time, our scale platform lineup has evolved, improved and expanded to include new functionality and models. Today MK Technologies is proud to offer a scale platform to suit most any type of motorsport vehicle.
| Model | Application | Description |
| --- | --- | --- |
| MKT1000 | Stock Car | Featuring professional grade roll-off scale pad levelers |
| MKT1200 | Prototypes, GT Cars | Scale trays designed to work with set-up wheels |
| MKT1500 | High performance street cars | Our wheel alignment stands for automotive shop use |
| MKT2000 | Formula / Sports Racer | Compact and lightweight, 4″ tall ramps |
| MKT3000 | Small GT | Designed for 15″x15″ scale pads, 4″ tall ramps |
| MKT3500 | NASCAR / GT / Prototype | Heavy-duty, 10″ tall ramps with support legs |
| MKT3700 | Prototype | Very low cars can roll up without bottoming |
| MKT3800 | NASCAR / GT | Our 10″-12″ tall platform designed for easy under-car access |
| MKT4000 | Multi-car teams | Adjustable wheelbase and track for any car, 15″ tall ramps |
| MKT5000 | Indy / Prototype | Zero-deflection scale pads, 10″ tall ramps |
| MKT6000 | Tech inspection | Custom designed to match your club or league requirements |
| Accessories | Accessories | A wide variety of accessories are available for your scale platforms |
MKT1000 Roll-Off Trays
MKT1000 Roll-off Trays incorporate the same design technology found in our industry-leading scale platforms. Roll-off trays feature an area beside the scale pad where you can roll the car to get off of the scale pads to reset calibration.
Structural adhesives used in the construction of the trays ensure extreme rigidity of each unit. This stiffness ensures repeatable setup in any location on any type of surface, while their compact size makes them light and easy to transport.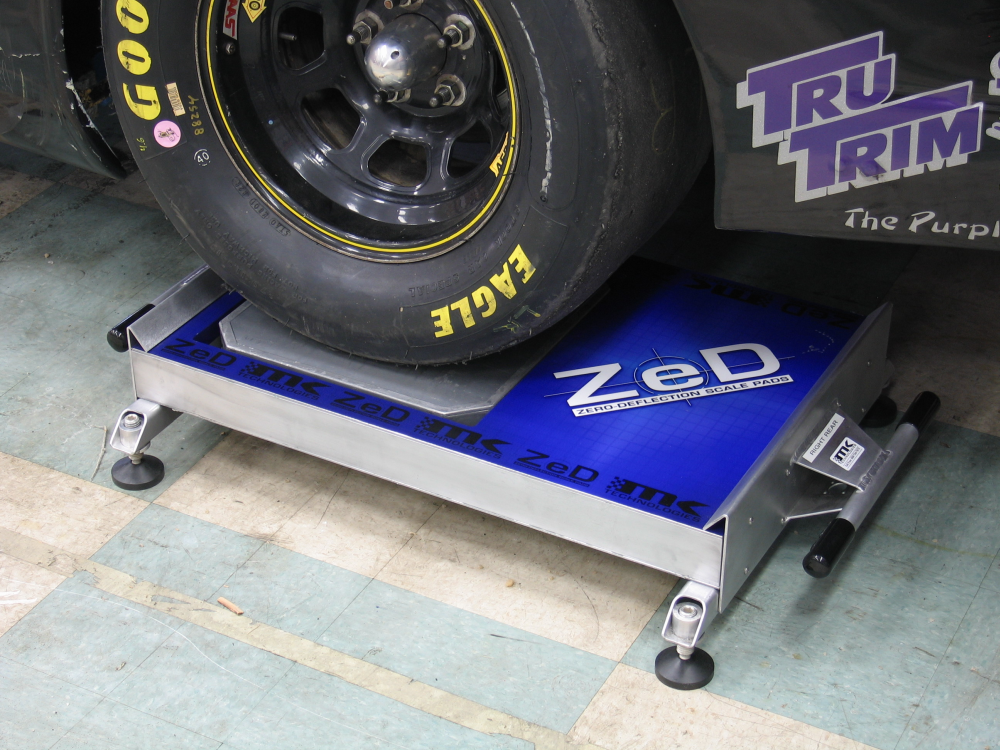 MKT1200 Scale Trays
The MKT1200 is the ultimate compact set-up platform that doesn't sacrifice performance. Perfect for Prototypes or GT Cars. The scale trays can be used with standard 15″ x 15″ scale pads or a set of our ZeD zero-deflection scale pads built to a custom size.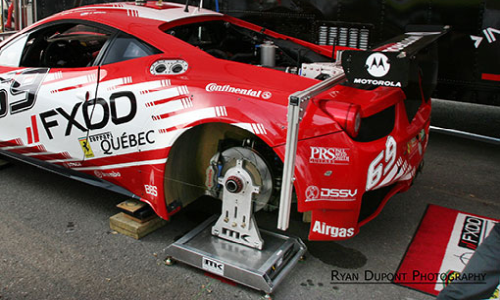 MKT1500 Automotive Shop Alignment System
Based on MK Technologies' extensive racing experience in the design and manufacture of chassis alignment equipment, the MKT1500 Automotive Shop Alignment System is a set of tools used to perform complete four-wheel alignments on any car, allowing technicians to do their own work rather than sending it out to the local alignment shop.
The portable MKT1500 system is designed to be used with a standard automotive hoist. The stands are available in custom heights. The system sets up in minutes and breaks down for easy storage.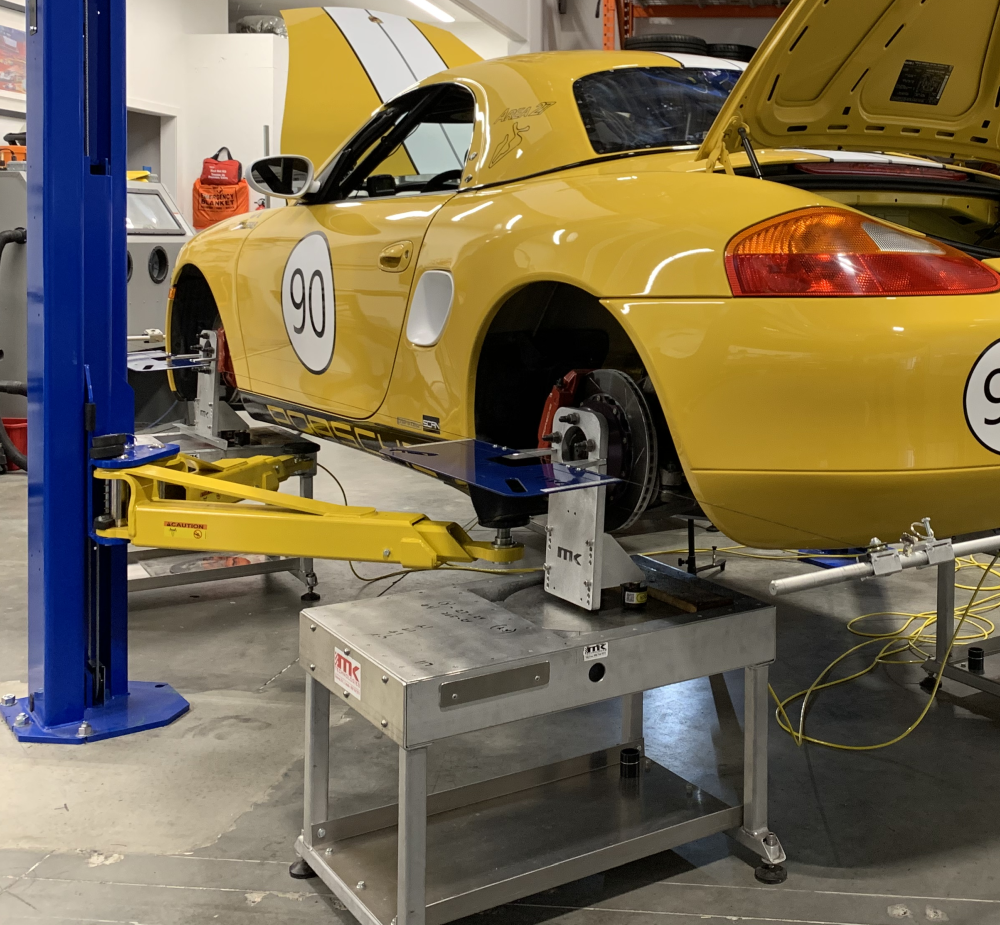 MKT2000 Scale Platform
The MKT2000 scale platform is perfectly suited to formula or light sports racing cars. It is designed to fit small scale pads (like those used for racing karts) and comes equipped with 4" x 2" bridges and ramps. This compact and lightweight platform system is easy to handle and is designed to fit into the smallest of trailers.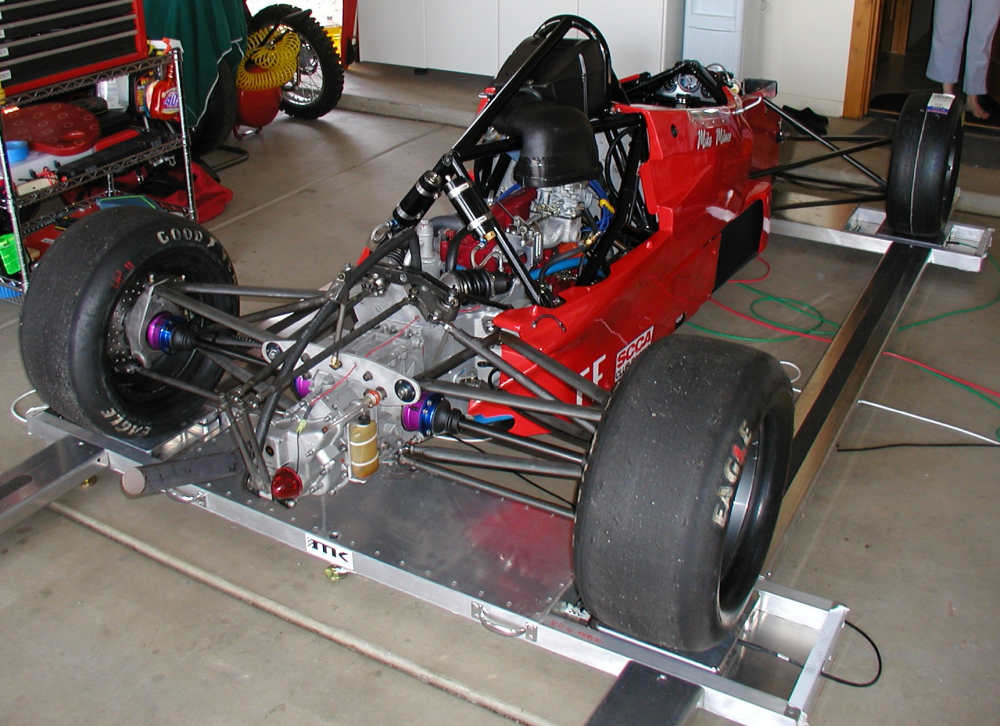 MKT3000 Scale Platform
A full-size platform built for 15" x 15" scale pads, the MKT3000 system was designed for Touring Car, solo, formula cars or sports racing prototypes. It uses 6" x 2" bridges and ramps and is engineered to be lightweight and easy to set up.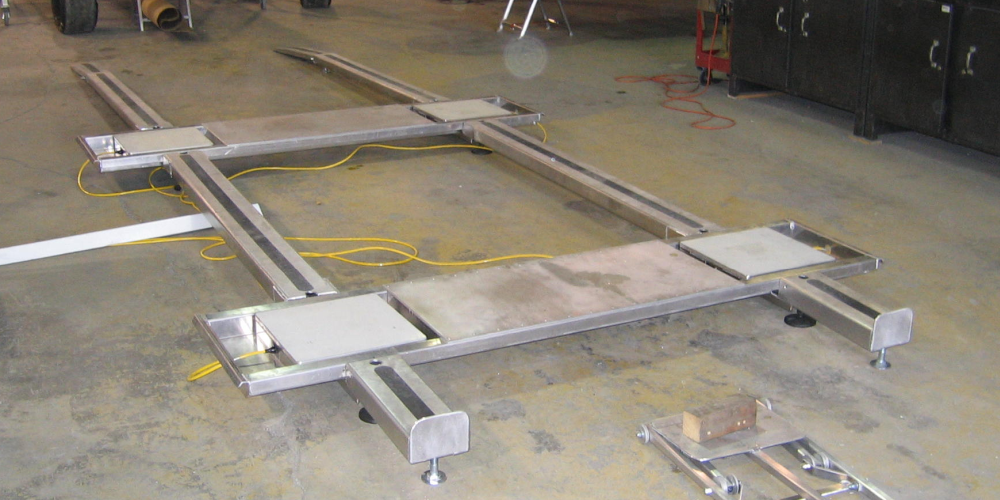 MKT3500 Scale Platform
MK Technologies' class-leading MKT3500 scale platform is built to handle any type of car: NASCAR, GT, Formula or Prototypes. The platform comes with broad 10" x 2" bridges and ramps with support legs.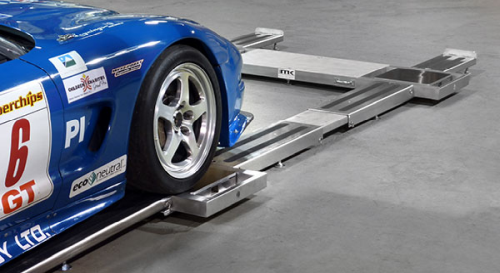 MKT3700 Scale Platform
The MKT3700 platform system is similar to the MKT3500 but features a bonded and riveted full-sized top sheet, for increased pontoon rigidity, and narrower scale pockets custom-fit to suit your car. The enhanced rigidity across the width of the scale pontoons is a favorite of many top teams. Our ZeD scale system can easily be built into this scale platform model.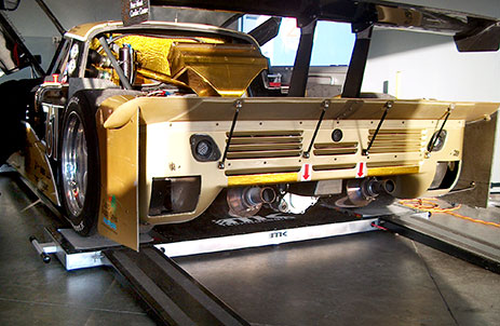 MKT3800 Scale Platform
The MKT3800 is a custom version of the MKT3500 and is built on a "riser" kit that reaches 10″ to 12″ high. The added height of this platform is extremely useful for making suspension adjustments from the underside of the vehicle and is very popular with Porsche shops!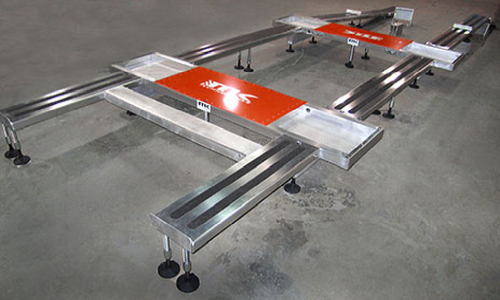 MKT4000 Scale Platform
This specially designed platform can be adjusted quickly to handle wide variances in track and wheelbase, without resetting the position and level of the major platform components.
This ease in adjustability makes the MKT4000 the perfect scale platform for multi-car teams where the wheelbases of the car vary widely.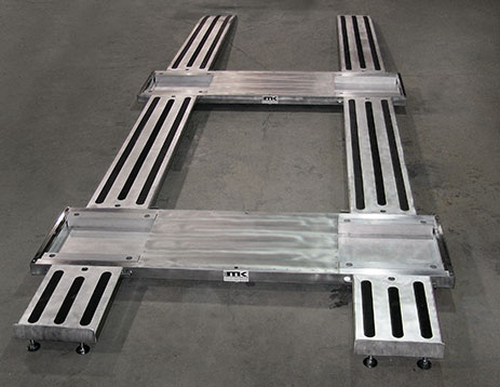 MKT5000 Scale Platform with ZeD Scales
Our top-of-the-line MKT5000 Scale Platform with ZeD Scales is designed for the most demanding of teams. The MKT5000 features custom fabrication to suit your exacting specifications. We produce a three-dimension mock-up before manufacturing to ensure your complete satisfaction.
Each scale pontoon has a special core inside that is bonded in composite structure style to ensure extreme rigidity of all components. Full sheet top and bottom plates are cut by CNC to ensure a precision fit. Ramps and bridges are 10"W x 2"H and made from custom-formed lightweight aluminum.
Every MKT5000 is fitted with our ZeD scales built in any size or shape required. The scales are placed in close-tolerance scale pockets for seamless vehicle transition from platform top to scale tops.
All of our scale platform options are included as standard on our MKT5000 scale platforms.
MK Technologies is proud to have built an MKT5000 scale platform for just about every top motorsport team in North America, including Andretti Racing who have five complete sets for their IndyCar program.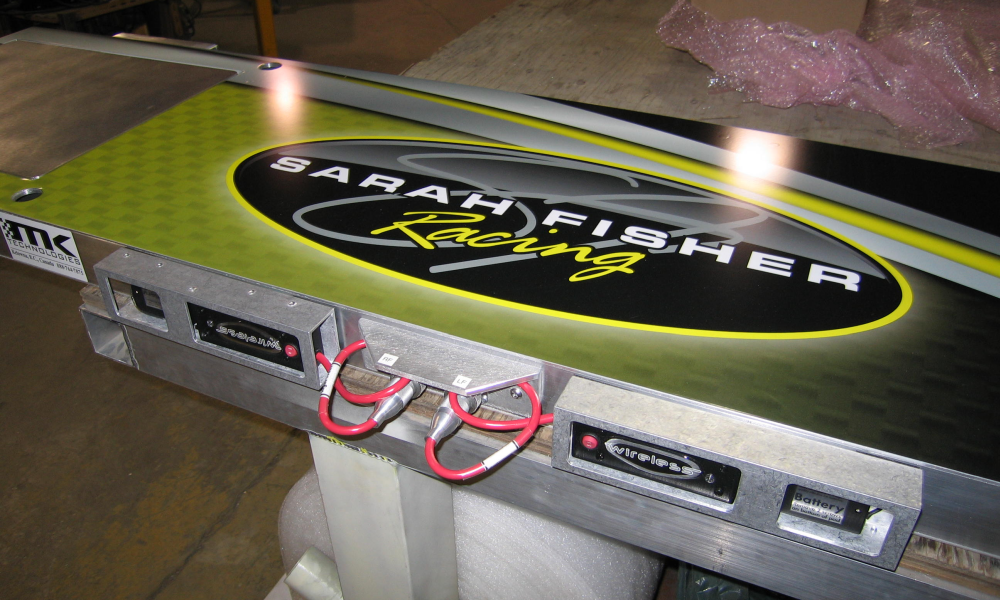 MKT6000 Scale Platform
Our MKT6000 model scale platform is a trackside-portable technical inspection system and is typically supplied to racing sanctioning bodies. The design of an MKT6000 platform is formed around the cars competing in the series. From a simple weigh scale function for local club racers to full-on international professional racing series.
MK Technologies has produced the MKT6000 for a long and impressive list of clients. Here are a few.
International Motor Sports Association (IMSA)
USAC Road Racing Series- GT cars
GT Celebration Series- GT and prototype cars
SCCA Pro Racing- several tech inspection systems for many different series
Canadian Touring Car Series- top sedan series in Canada
Hankook 24 Hrs Series- world championship
Below you'll find a few examples of MKT6000 platform designs. Call us to get started on the scope of technical requirements that must be met for your race series.