Formula Car Lift Kit
MK Technologies newest product is our innovative Formula Car Lift Kit. Developed in collaboration with Phil Picard of Momentum Motorsports, the lift system makes raising your formula car to a comfortable working height a breeze. The kit incorporates two jacks, one for lifting each end of your car. We provide custom adapter frames that make attaching to and lifting any formula car quick and easy.
Our lifts are powered by a cordless drill and can raise a car to more than 24", high enough to set the car on one of our static or rolling chassis stands. The lifts are fast as well, lifting a car in less than half a minute.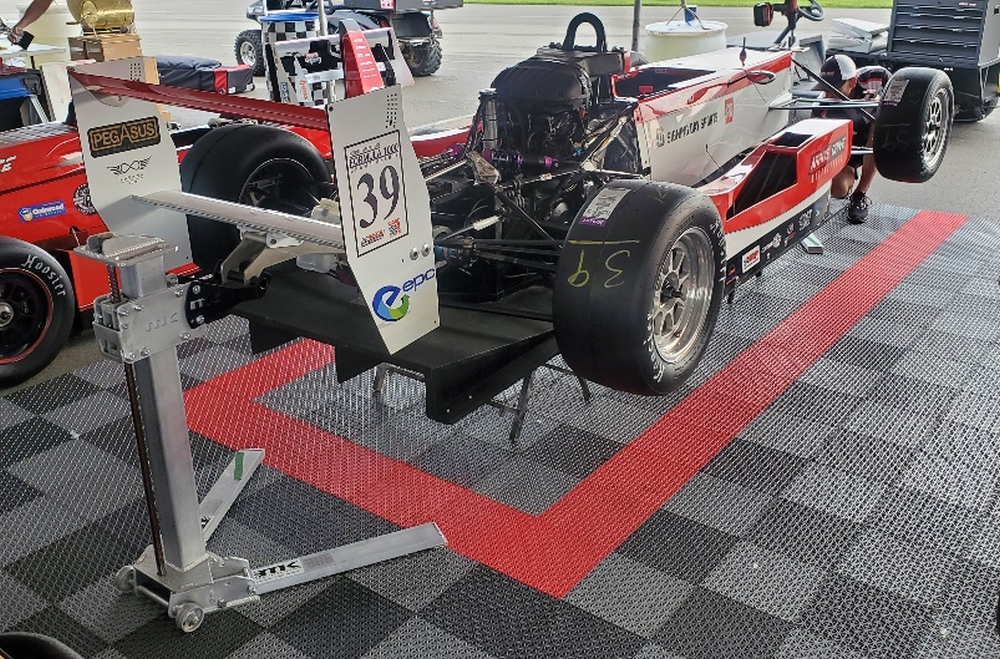 Quick Lifts
MK Technologies Quick Lifts are designed to work with most formula or sports racing cars. All Quick Lifts feature aluminum construction and innovative design.
Front Quick Lifts
MK Technologies manufactures Front Quick Lifts to fit a variety of formula cars. Our Front Quick Lift has either a padded plate to pick up the car by the front wing, or a cross bar that fits into the manufacturer's lift points.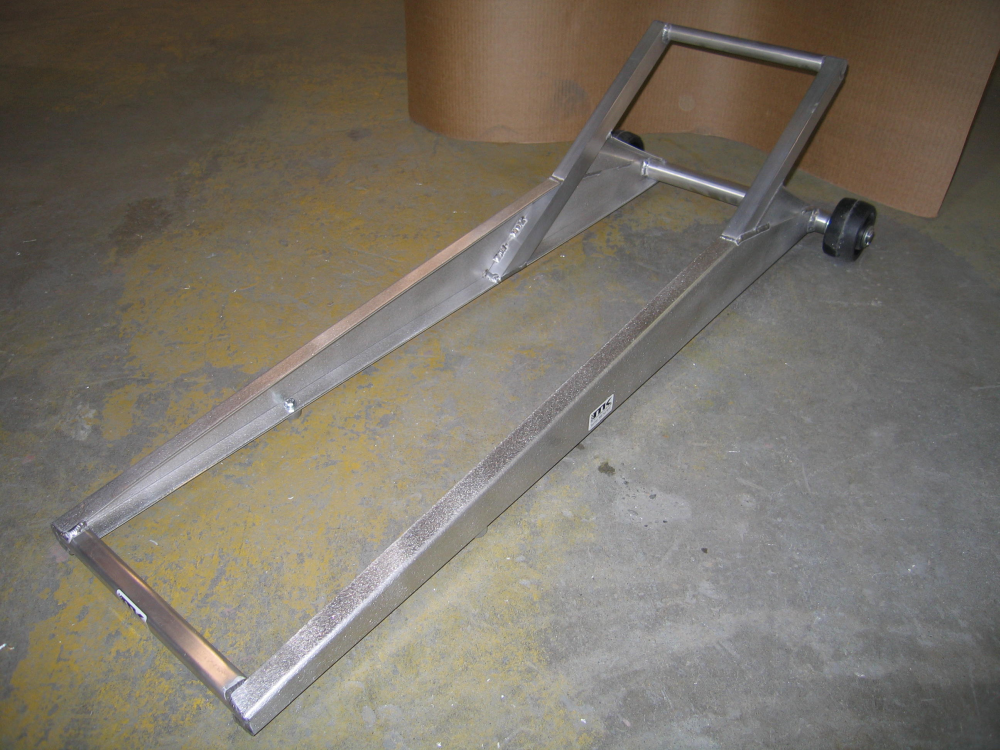 Rear Quick Lift
The MK Technologies Rear Quick Lift features 6" wheels and a steel t-bar that pivots, allowing you to easily steer the car from the back in tight paddocks.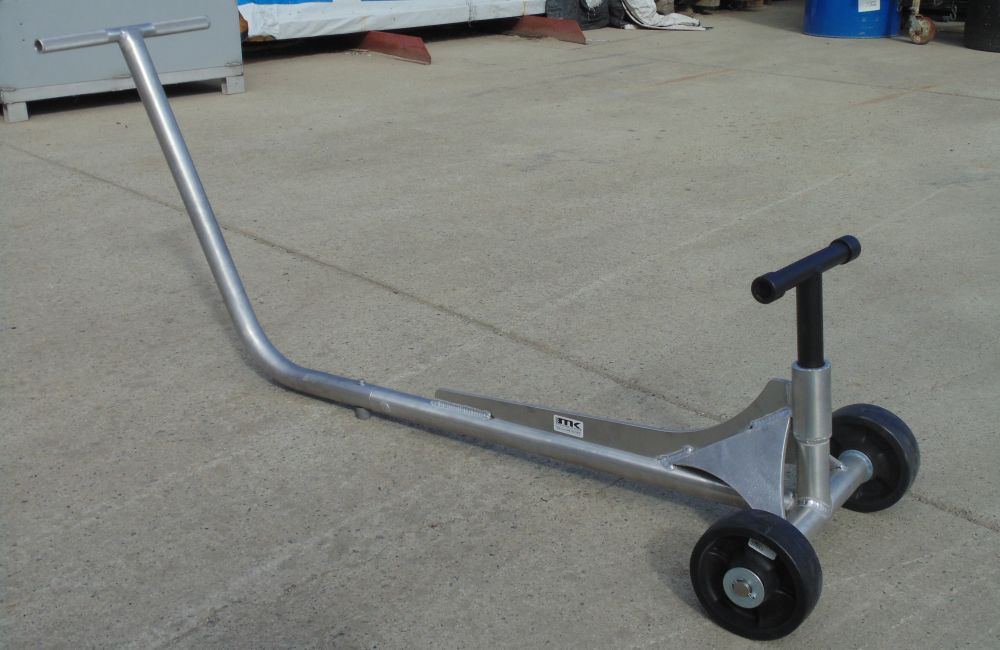 Universal Quick Lift
Our universal quick lift is ready and willing to pick up any Formula car. Sporting a strong and sturdy design, it can still fit under low ground clearance cars.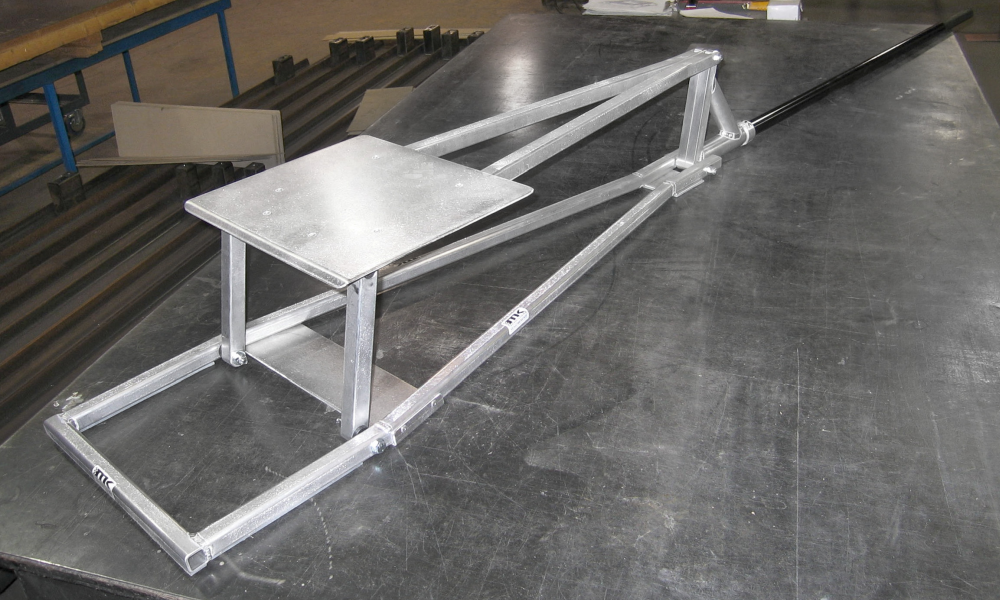 Wide Guy Quick Lift
MK Technologies' "Wide Guy" Quick Lift is designed to pick up the front end of super-low-slung formula cars by reaching to the front bulkhead to lift the car at the sturdiest point.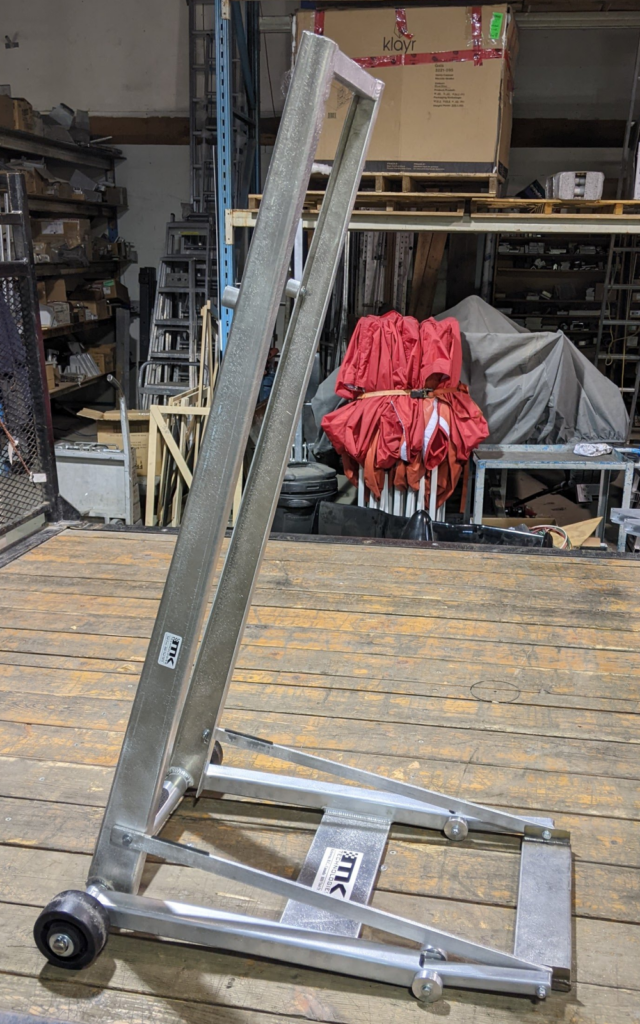 A-Frame Lift
The MK Technologies A-Frame Lift is in a class of its own. Boasting a lifting capacity of 2000 lbs, it can effortlessly pick up a formula or sports racing car. Our A-Frame Lift can also be used to do the heavy lifting when swapping engines, performing clutch service or other heavy duty maintenance jobs. With its heavy duty casters, the A-Frame Lift can transport heavy items around your shop or be used to load a pick-up truck.

Our A-Frame folds up without using tools. There are no bolts required to attach the leg braces and slam latches secure the "knuckles" in place of bolts. Wheels and a handle allow for ease of transport and storage. Optional extension legs allow you to adjust the height of your A-Frame Lift.

The MK Technologies A-Frame Lift uses a heavy duty Warn DC1200 hoist. The Warn hoist is certified for use in overhead lifting and has a positive action brake that locks the cable drum if power is removed, removing the risk of backsliding found in common winches. The hoist operates on a 12 volt car battery and comes with a standard plug like those used on most race car jumper batteries. Battery not included.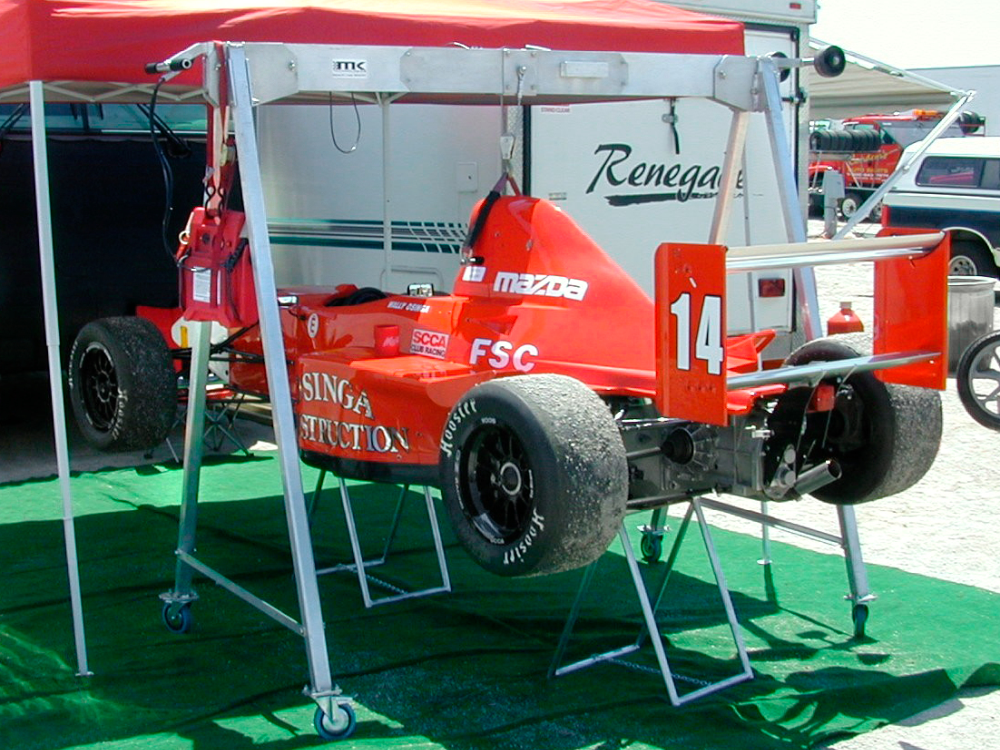 A-Frame Lift Accessories
Mounting Box with Battery and Charger
If you would prefer to have a dedicated battery for your a-frame: we supply an aluminum battery box with a AGM battery with a cable and plug end. This accessory can hang on the backbone of the a-frame and will likely power it all race weekend long. As a bonus, we have been adding a 12v charger to the battery box option, allowing you to plug your a-frame battery in to keep in optimal state of charge.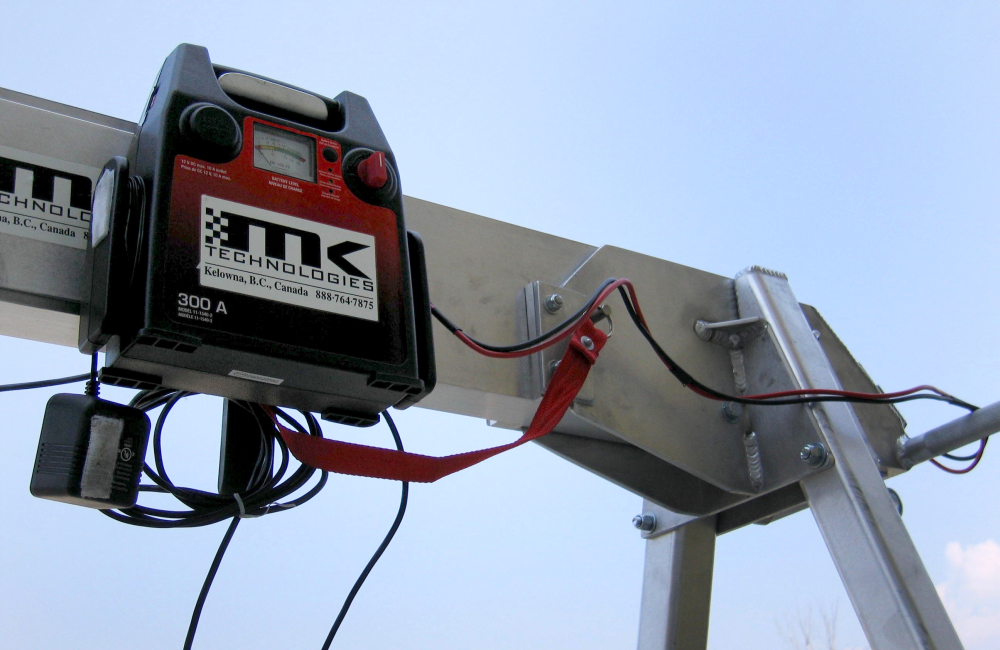 A-Frame Leg Extension Kit
If you need extra lift height for your A-Frame, we have an optional extended leg kit. Simple to use and adds three feet of extra height adjustment.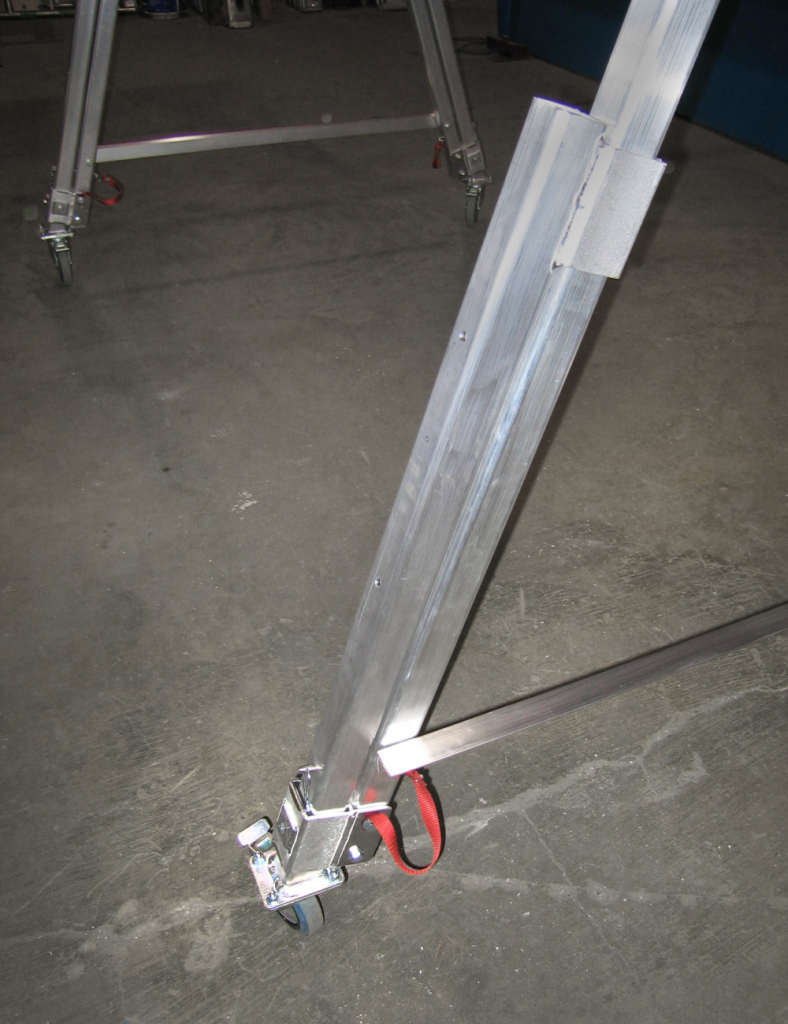 A-Frame Lifting Harness
Many Formula cars have fiberglass bodywork covering the roll-bar. These cars usually have a pass-through port at the base of the roll-bar to accommodate a lifting bar. We have designed a harness to use with the lifting bar which allows the car to be lifted by an A-Frame without risking damage to the fiberglass.
A Radial SR3 can be lifted with our special lifting bar option that moves the lifting point slightly forward, distributing the weight of the car so it hangs level.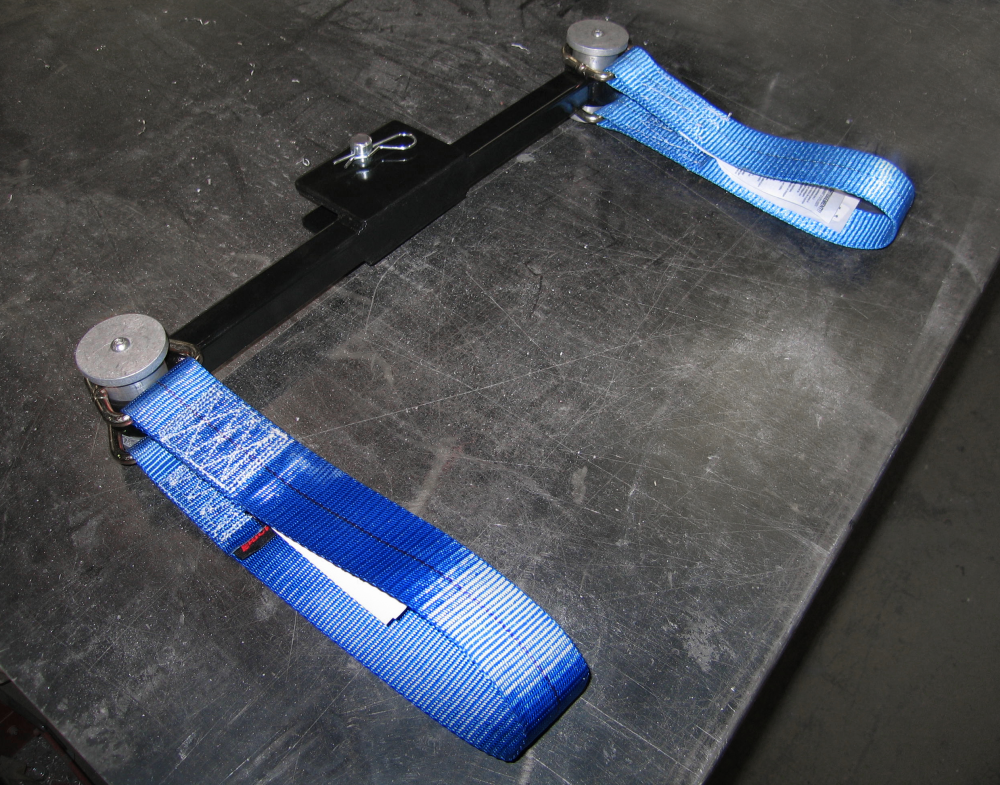 A-Frame Storage Bracket
MK Technologies can design an A-Frame storage bracket to suit any location available in your trailer. The photo below shows just one of many we've fabricated. Call us to discuss.