MK Technologies' Setup Wheel product line-up features a kit to fit any budget and skill set.
Technician Setup Wheels
Our entry-level Technician Setup Wheels are designed for the budget-conscious racer who is unwilling to sacrifice accuracy and repeatability. Designed using ½" aluminum plate for lighter formula cars and sports racers, we have universal bolt patterns to fit most Formula Ford, Formula 2000 and Formula Atlantic cars. MK Technologies can work with your team to produce a car-specific design to fit your needs.
Master Setup Wheels
MK Technologies mid-range Master Setup Wheels fit GT cars, sports racers and prototypes and are designed for durability without sacrificing accuracy and repeatability. The Master Setup Wheels are similar in design to the Technician model but feature heavier ¾" thick aluminum plate construction.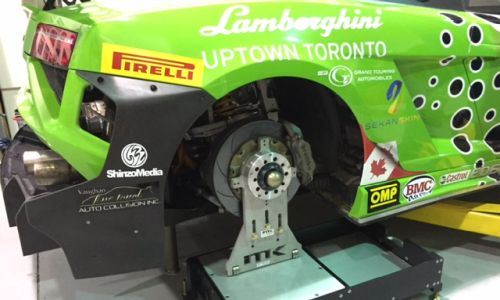 Expert Setup Wheels
MK Technologies Expert Setup Wheels are our flagship setup wheel product, designed for ultimate accuracy. Each set is custom-made for your vehicle using the finest materials available. The center hub adapter is designed to fit as snug as your wheels while the main hub plate comes macro-adjustable to accommodate varying tire radii. Omni ball transfers provide micro-adjustability and can be located at an offset position from the hub face, precisely at the center of pressure of the wheel, which enables extremely accurate measurements.